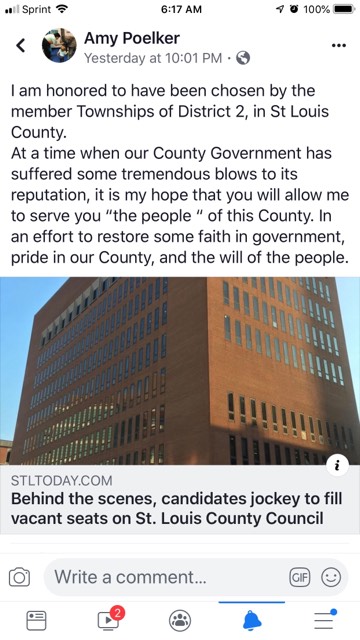 Public Wishes/Supporters/Need a Yard Sign? click here
Resume on Linkedin - Click Here
Really the only Question is -
Do you want someone who will seek and vote your opinion?
Or do you want someone who believes you vote for them because of their opinions and does the thinking for you?
We saw through the Better Together Merger Debacle, that when Politicians think they know better for us...the outcome is not good for the people and very profitable for the Politicians.
I am the Candidate that listens to their constituents, no matter the party politics and will vote what the people want, just ask my current Mayor.
In 2016 I ran for County Council, not much has changed, except the person I am running against.
They still have Budget Problems that must be resolved, they are still trying to tell landlords how they can run their properties, with Clancy's New Bill and Infrastructure that needs to be addressed. Their attempts to use Prop P for anything but Police are a slap in the face to all of us who voted for this to go to the Police.
41% of you Believed in me in 2016.
Please review my Accomplishments since at www.amypoelker.com and remember…
Amy is the Candidate that with the help of the many, in her Stop Merger LLCs., TEAM...
WON THE BATTLE AGAINST BETTER TOGETHER on their City/County Merger Amendment!!!
Where were my opponents during this time? Who will keep you informed on this and fight with you to stop it – Amy will.
We have returned St Ann's Economic Growth not just at the Crossings but throughout the city as well, Reduced its Unemployment by 6%, The average income has risen from 37,000 to 44,000, Property Assessments are up, up, up, plus in 2018 we were voted 7th Safest City in the State and St Ann is the 17th most diverse city in the State.
More Accomplishments are linked on my website.
Today I can say St. Ann is indeed on its way to recovery, we may still have much more work to do, but thanks to the involvement of its dedicated citizens we have seen much success. Now I would like to take my experience and continue my work to help all of our communities at a greater level. This is where County has failed us to date.
I don't pretend like I know exactly what to do, but I will continue to use my past experiences and your advice/questions/concerns-to guide my way thru it. I will not be a politician. You cannot say one thing and do another in my book. And if I don't know something, I am not afraid to admit it, but I will follow up with someone that does know the answer.
A good leader does not need to know all the answers...but they do have to know how to find them. I was once afraid to coach volleyball, I knew how to play it, but not coach it. One of St. Ann's prior swim coaches taught me how to coach it, and that led to me having my own club...
St Ann and I have worked together for the last 8 years, looking back at where we started, and seeing where we are now…. it's happening in St. Ann!
I hope I can gain your support and the support of others, in my work towards the future. I will aggressively work with both parties to push thru the success of the entire region...it must happen NOW; this next election is very important to District 2 and St Louis County as a whole. We must bring jobs and families back to our region.
Thank you for your consideration,
Amy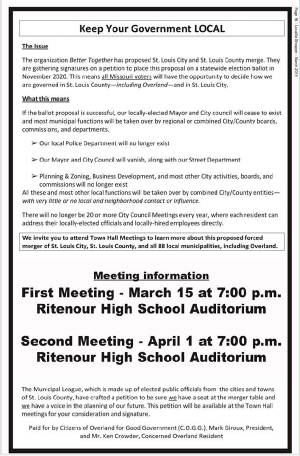 Led the Fight against the City County Merger
2019 - In January, Better Together announced their plan to place a Constitutional Amendment on the ballot in November 2020 to create a new Metro City form of government which would in the end ELIMINATE municipal governments by merging St Louis City and St Louis County. As shown above I have been involved in this since 2012. When the MML voted to use the Freeholders Method in the current MO. Constitution I held Petition signings on Feb 9,19 March 19 as well as spoke at meeting in Overland on the Amendment and what it did and Petitions signed there. In total I turned in 22 pages of Petition signatures for the Freeholders Process. Which led to 2 public speaking events at Ritenour High Schools Auditorium on March 15 and April 1st for residents to learn about the amendment and sign petitions. Have met a ton of resources through this fight and most recently was invited to a Kirkwood Meeting to assist. Am running Statewide ads on Facebook and Blipboard ads to work to reach outstate MO. with our message of DO NOT MERGE US.
On May 6th Better Together withdrew their petition to Force a Merger of St Louis City and St Louis County. We WON...the battle, though I fear the War is still at hand.
My Accomplishments as your Alderman here
St Ann was 7th quite an accomplishment in Safest Cities
As for Why Amy today - 2019...
You will not find a stronger fighter for you the resident, as proven through my past performance in my 8 years as an Alderman. Unopposed since my 1st Election in 2011.
I did run as a Write-In in 2010 and though I lost that attempt, I received 144 votes and was a mere 37 away from a win.
I played a leading role in the Fight Against Better Together's Statewide Amendment to Merge St Louis City with St Louis County. I have followed their work since 2013. Thankfully we Won that battle, but they are already attempting to work a new way to make their ideas happen.
I played a role in getting the Westlake Landfill Cleaned Up, though there is still the Ground Water issue to deal with.
For me it started in Jan of 2015, when a 7.5 mile Pipeline was run through all of our municipalities, without informing us as to why...
My township Committeeman asked me to speak on this topic, which gained his interest and he held our next meeting at a Westlake Meeting. At that point he used his influence with Roy Blunt to get the process started to get this issue solved. Roy Blunt got SB2306 passed, the EPA forced to address. I also spoke before the EPA and led the rally to get others to email/speak. Amongst many other things between now and 1/1/15.
Then there is Economic Development, aside from St Ann's Successes, I assisted and continue to assist Dan Buck's PowerPlex project. Though this project will not be located in my city, it is of huge importance to North County and frankly the entire Region. It's Economic Impact will be huge to St. Louis County as a whole.
(this not completed yet, but wanted to post)
2019 Combined Funds Draft Budget Workbook
Downloadable pdf City Events and Important Numbers 2019
GENERAL FUND OPERATING EXPENSES AND TRANSFERS
GENERAL FUND EXPENSES BY DEPARTMENT
SPECIAL FUND EXPENSES DETAILED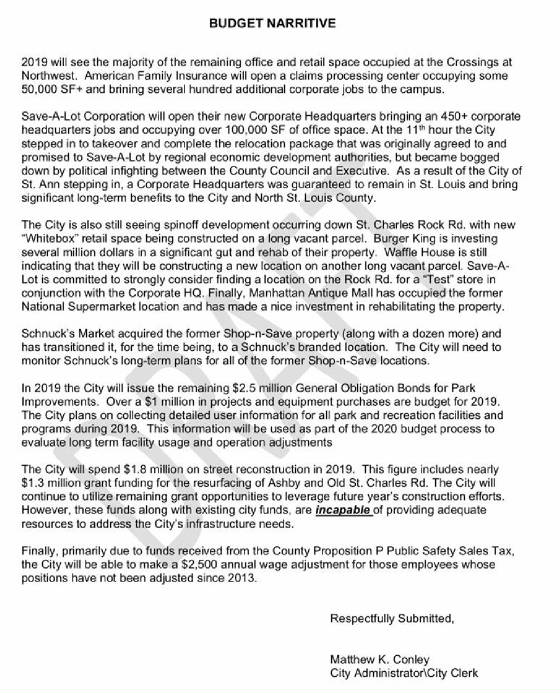 CDBG GRANTS
Get Information on Home Improvement Program (St. Louis County Community Block Grant)
The Community Development Block Grant Home Improvement Program is administered through St. Louis County. For more information on the program please contact St. Louis County Office of Community Development at 314 615-4405 or click on the link below:
FOR THE CDBG GRANT CALL THE NUMBER HERE:
Clayton Office
121 S. Meramec, Ste. 444
St. Louis, MO 63105
(314) 615-8232
WHEN THE VOICEMAIL KICKS IN HIT #1 IF YOU HEAR ST. ANN'S NAME THEN THERE IS STILL MONEY AVAILABLE, THEN YOU WILL HIT #1 TO LEAVE A MESSAGE SO THAT THEY CAN CALL YOU BACK AND TAKE YOUR INFORMATION OVER THE PHONE. from there if you qualify they will send you an application in the mail.
CBDG PAGE WITH APPLICATION LINK IN TOP RIGHT