5 years ago, St Ann didn't even have a developer for this location.
The Glarner's are St. Louis people and have done a great job turning this location around.
I continue to be grateful for their work and sacrifice in helping St. Ann move forward again.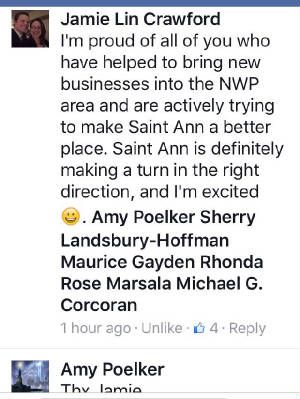 FAMILIES AND KIDS MATTER.....
Municipal Division Work groupFinal report to Supreme Court 3 1 16
Judge sides with St Louis County Munis on SB5
To be clear on the Westlake Landfill issue.... I do not appreciate the government allowing this pipeline to be run through my city, and especially that they felt it was not necessary to inform local government of what they were doing.
I personally feel that the responsibility for this nightmare lies in the hands of the Federal Government which created the Uranium issue to begin with by not properly disposing of the materials and not informing the public of what they had been exposed to.
Ultimately I feel it is the Federal Government who should own up to their responsibility and create a safe environment for the citizens to live and work within.
Summary Opinion on Westlake Landfill Letter
St Ann only had one Siren and it was located off Adie Rd. too far for our residents to the North and East to hear at all.
Demand For Weather Radios Spike After Recent Storms
The demand for weather radios in St. Louis has taken a dramatic spike.
'We`ve had more interest in weather radios in the past 5 days then we have in the previous five years,' said Frank Blair, Schnarr`s Hardware.
The demand came after a FOX 2 Stormfest special and following the damage from twisters that hit southwest Missouri and southern Illinois this week.
Schnucks stores plan on receiving new shipments soon and will call any customers with rain checks to let them know when they arrive. Schnucks is donating $2.50 to the Salvation Army for every weather radio sold.
Jeff Branneky owns Branneky True Value Hardware store in Bridgeton. Many of his customers were victims of the Good Friday tornado from 2011.
'There`s more of an awareness this year because of what happened last year,' said Branneky.
The weather radios can sound when a tornado warning is issued in your county. The warning sirens St. Louis County recently updated are designed to be heard outside and not necessarily inside.
St. Ann resident Amy Poelker is upset because she feels the sirens should be louder. She can`t hear them where she lives on Mary Ann Ct.
'It`s a public safety issue,' said Poelker. She took her concerns to her elected leaders and St. Louis County listened.
A new siren will be installed near her neighborhood. St. Louis County is adding 11 additional sirens after receiving feedback from residents.
Poelker just worries about the residents without weather radios.
'I don`t want everybody in this area winding up like Joplin.'
QUESTIONS ASKED PREVIOUSLY FROM ST ANN RESIDENTS AND ANSWERS
Municipal Links to their Website and Services
ST ANN PUBLIC RECORDS REQUEST FORM
The Constitution Center - Constitution Page
Zoo Member, American Disabled Veterans, USO, WW1 Memorial Fund, NRA Life Member, MUNY, KCU, St Ann Alderman, MDA, USAV, AAU V, Operation Graduation, Pride & Promise Contributor, SAPA, SABA, Ran as a Candidate for St Louis County Council-got 41% of vote. RLAC & Ritenour Parent Advocacy Committee
Paid for by Amy Poelker to Elect Amy Poelker.