Looking for that Daycare where your child can Play and Explore?

But you want to ensure consistency in your childs care?

This is what I offer...

I have been in the Childcare business for 23+ years.

and with 3 grandchildren in the mix will be doing childcare for sure for the next 7 years.

This offers you assurance in the consistency of who will be watching and assisting in your childs growth until you send them off to school or pre-school.
1 Opening Immediately for 24-month-old and up.
Plus 1 Opening in December for 18 month and up
At a Glance:
Wipes, Desitin, Snacks and Lunch I provide.
Hours: 6:00am till 6pm
MON-FRI
License: Yes, State & City
Rate: $180.00/week
Accept FULL TIME ONLY
Phone: 314-517-2378
Location: St. Ann, Mo. (please call if interested, email scams prevent me from returning emails and texts
Accept: CASH/ Google Pay/ Check - Paid on Mondays

NON-SMOKING and CPR INFANT, TODDLER, ADULT & FIRST AID CERTIFIED
Practice and trained in Safe Sleep for infants
AGE-APPROPRIATE EDUCATION
TRAINING: see page on my website please, STATE LICENSED SITTERS ARE REQUIRED TO TAKE 12 HRS OF TRAINING/YEAR

https://nocofoshojrvbc.tripod.com/tlc/id10.html

Please review the entire site you may find it will answer most all your questions.
I have put in place sanitation methods and follow State Standards in this area. Please see my website's home page for more information on this.

Pets- Pomeranian Dog, Tortoiseshell cat

See below for important sanitation procedures and childcare information.
Please review entire site, many questions are answered right here.

When considering Preschool, please give 2 Months' Notice- so I have an opportunity to replace your child without it affecting my ability to pay my bills. Thank you
FYI- Ritenour Preschool does drop off and pick up at my home.
Due to Covid...
Interviews will need to be set up after hours or on weekends, so we do not risk the children being exposed. Please take your temperature before coming and if experiencing any symptoms, let's reschedule.
PICS (tripod.com)

TO GIVE YOU AN IDEA, OF WHAT THEIR PLAYING AND CREATIVITY ARE LIKE.
I promote learning from creativity and socialization. Music/Dance, Reading, Art, Building, Sharing, Caring....When the age and moments are right i work with the children individually on numbers and letters, so that it is more naturally included in their day to day routines versus a forced learning period. You have to catch children during their natural desire to learn during these ages for memory retention.
Attendance Paperwork Page 1-5 required Day One
If you need state subsidy, start here with this link.
Yes this Daycare is fully Vaccinated, cards available upon request.
Remington Airetrex 365 Home Air Sanitizer
Video Link explains the Air Scrubber Process
Yes, this Daycare has protection against Allergens and Viruses, similar to what Hospitals use. Plus a Hepa 13 Medify Air 25 Filter. And uses UV Sanitation.
HOCL FOGGING
With the day to day sanitation needs in a daycare and the in ability to find Lysol out there, I have done tons of research to learn about what others are doing out there. My cruise line recently put out a memo on the product they will be using and i learned it's pretty easy to make. Salt, Water and Electricity! Of course I went to Amazon to find the machine that does this. But it's safe to eat and destroys viruses and bacteria alike. I am tagging the machine I bought as well in case you would like one for your homes as well, since Lysol is a long time coming....
For State Assistance I must have your Paperwork approved 1st.
FOR PARENT REMINDERS PLEASE SUBSCRIBE TO MY NEW EMAIL LIST
2019 Bill 397 forces Grandkids and parents kids to become part of their numbers allowed. This is resulting in daycare shortages and increased prices. Call your State Representative to voice your opinion on this. Nathan's Law was initiated and pushed by Jill Schuup.
Start up Member of Ritenour's Parent Advocacy Program Grand Opening 4/24/18
My Mom and Brothers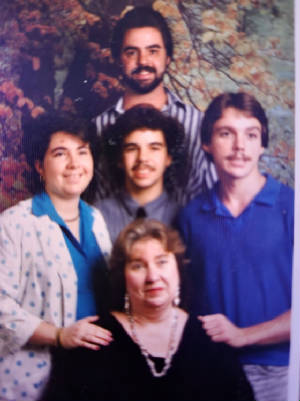 We grew up in Hillsdale, Mo just 7 miles from St Ann.
This is a class we are required to take as daycare operators.
It is full of tons of valuable information for families.
I highly reccommend listening to it.
ACCEPT FULL-TIME KIDS ONLY
Ages Birth - 5yrs
Deciding on day care for your child is a very personal decision. It is important to get all of the facts about the facility before you decide.

I understand these concerns and i hope this site will help educate you about my Day Care home. I have put information about my philosophy here for you to learn more about me.

Thank you for taking the time to visit. Please get in touch if you have any questions or need more information.
Make sure you ask this very important question in all your interviews.
How long have you been sitting and how long do you intend to stay in the business?
Many people try their hands at sitting not all have the patience for it, DON'T WIND UP WITH THE SITTER WHO QUITS 6 MONTHS DOWN THE ROAD, ask questions and be sure.
Welcome to my web site!

On this home page, i'll introduce my business and highlight important areas on my site.
Please review the entire site you may find it will answer most all of your questions.
Now a little about me: I remember worrying daily when my oldest was in daycare: is she happy? Does she really like them? Is she safe? Did the daycare provider stay up too late last night? Will they give her something to drink when she's thirsty? Will they force her to eat what she does not like? Will they discipline her harshly? Will they make her nap longer than she needs? My heart was left with my child each day. I always checked the daycare out before enrolling,

but with my child so young it was impossible to truly know what her day was like. I promise the children in my care that I will keep them safe, love them as my own, treat them and their wishes with respect, and gently guide them when they make mistakes. I will encourage play, creativity, independence, sharing, empathy, teamwork, and learning. I promise the parents of my children that they can know without a doubt their children are being cared for in an environment that will help their children grow into happy, healthy, and confident young adults!



An important factor to consider when choosing daycare is the type of learning style and overall philosophy of the facility.
Mission Statement
I BELIEVE THAT ALL CHILDREN ARE INDIVIDUALS, EACH CHILD LEARNS
AND DEVELOPS AT A DIFFERENT RATE. I TRY TO AID THEIR DEVELOPMENT ON AN
INDIVIDUAL BASIS. PEOPLE LEARN THRU 3 METHODS: DOING, READING, SEEING AND A COMBINATION OF ALL 3. YOUR CHILD WILL NAP AS NEEDED INDIVIDUALLY AS MOST CHILDREN HAVE VARYING SLEEP SCHEDULES. CHILDREN WILL LEARN BASIC CONCEPTS PENDING ON THE NEEDS AND AGE OF THE CHILD: SHARING, CARING, CRAWLING, WALKING ETC. TABLE MANNERS, EATING AT THE TABLE. NO JUMPING IN CHAIRS, ETC./ SAFE PLAY PRACTICES.
POTTY TRAINING WILL COMMENCE WHEN THE CHILD SHOWS AN INTEREST AND AFTER YOU HAVE BEGUN THE PRACTICES IN YOUR HOME. KIDS MOVIES WILL ALWAYS BE AVAILABLE, HOWEVER I FIND THAT MOST KIDS WILL ONLY STOP OCCASIONALLY TO VIEW THEM THE REST OF THEIR TIME IS SPENT PLAYING. WE DO SOME READING, DANCING TO MUSIC, OUTSIDE PLAY AS WELL.
TIME OUT IS USED FOR DISCIPLINE, TYPICALLY ONE MINUTE/AGE OF CHILD.
THE BASIS OF MY DAYCARE IS OPEN PLAY THOUGH, AND AIDING THE CHILD IN
THEIR DEVELOPMENT AS SEEN, AS NEEDED.

Program Design
IT IS NOT THE PURPOSE OF MY DAYCARE, TO TEACH AS IN PRE-SCHOOL
MY KIDS LEARN HOW TO BE THEIR OWN INDIVIDUALS, INDEPENDENT,
CONFIDENT, MAKING THEIR OWN DECISIONS, CORRECTLY.
IF LOOKING FOR A PRE SCHOOL ATMOSPHERE I MAY NOT BE RIGHT FOR YOU, BUT IF
LOOKING FOR A PLACE FOR YOUR CHILD TO HAVE FUN, MEET FRIENDS, AND GET
INDIVIDUAL ATTENTION VS. GROUP ATTENTION, I'M YOUR DAYCARE PROVIDER.
(many of my children have gone on to pre-school and been complimented on having the communication level of a 5yr old)
* AGE APPROPRIATE EDUCATION- YEAR PRIOR TO KINDERGARTEN YOUR CHILD WILL PRACTICE WRITING THEIR ABC'S AND NUMBER'S ON WORKSHEETS, SENT HOME DAILY DURING THE REGULAR SCHOOL YEAR IN AN EFFORT TO PREPARE THEM FOR THEIR SCHOOL ROUTINES. SCHOOL APPROPRIATE BEHAVIORS ARE ALSO EMPHASIZED.
click for link to bev bos Heres an excerpt from the Preface from the Authors Thirty years of working and playing attention to young children and their families has nudged the two of us to express our concern about environments for childhood. Have we gone too far past remembering how to care for our young children? Have we tumbled over the edge? Children are spending their early years in habitats designed for adults instead of spaces of places that honor and respect the needs of growing, learning, exploring children. Cities, towns, houses, condos, apartments, parks, streets, malls, school and most public places are planned and built for adults. The needs of children are sacrificed. . . . We must advocate for places where children wonder, discover, imagine, construct and learn by trial-and-error so that from their experiences they can develop their own framework of knowledge and firm sense of self. We hope to strengthen your commitment to children and to support their right to play.
SOME THOUGHTS ON CHOOSING YOUR CHILDCARE OPERATOR.....

THERE ARE THOSE WHO DO DAYCARE BECAUSE THEY TRULY CARE TO ENSURE KIDS ARE SAFE AND HAPPY AND THERE ARE THOSE WHO SIMPLY DO IT FOR THE MONEY OR SO THEY CAN STAY AT HOME WITH THEIR KIDS.
ALWAYS ASK IN YOUR INTERVIEWS QUESTIONS LIKE: HOW LONG HAVE YOU BEEN SITTING? WHAT ARE YOUR EMPLOYMENT PLANS FOR THE FUTURE? WHY HAVE YOU CHOSEN TO DO DAYCARE FOR A LIVING? ON THIS WEBSITE I HAVE A LIST OF QUESTIONS THAT THE DIVISION OF HEALTH AND SENIOR SERVICES IN CHARGE OF CHILDCARE GIVERS IN MISSOURI HAS FOR YOU TO ASK: ON THE REQUIREMENTS THAT MUST BE MET PAGE IN THE BOTTOM RIGHT CORNER, CLICK ON MY ANSWERS AND YOU WILL GET THE QUESTIONS, THEY SUGGEST YOU ASK ALSO.
IF SOMEONE IS PLANNING ON STAYING IN THE BUSINESS AND HAS ACTUALLY THOUGHT THEIR DECISION THRU IN THEIR CAREER CHOICE THEY SHOULD HAVE GOOD ANSWERS TO THESE QUESTIONS. THEY WILL LIKELY NOT QUIT ON YOU IN 3 WEEKS TO 6 MONTHS. SOME PEOPLE HAVE THE PATIENCE FOR THIS JOB AND SOME WOULD LIKE TO BUT FIND OUT THEY DON'T AND YA DON'T WANT TO WIND UP HAVING TO SWITCH SITTERS DOWN THE LINE AS IT STRESSES YOUR CHILD AND YOU.
CHOOSING YOUR CHILDCARE PROVIDER IS LIKE CHOOSING YOUR SOUL MATE - THIS PERSON WILL BE EXAMPLE SETTING DAILY ROUTINE AND CHARACTERISTICS FOR YOUR CHILD DURING 8-12 HOURS OF THE DAY 5 OUT OF 7 DAYS OF THE WEEK. YOU DON'T WANT TO HAVE TO KEEP SKIPPING FROM ONE SITTER TO THE NEXT. CHILDREN NEED CONSISTENCY TO KNOW THEY ARE SAFE.
JUST A FEW THOUGHTS TO HELP YOU IN YOUR DECISION MAKING FOR YOUR CHILD'S FUTURE.
Hakuna Matata Mom - means No Worries
HOLDING SPOTS FOR INFANTS DOES REQUIRE A DOWN PAYMENT WHICH YOU RECEIVE BACK ON YOUR 1ST 4 WEEKs. Sorry but this policy is necessary to ensure my families budget is not impacted.
When available, I do accept infants.
Keep in mind, the state licensing requirements enable me to only have 2 children under the age of Two. If i have openings in this age group it will be announced on THIS PAGE.
My home does have the Ultra Violet lighting in the Furnace which eliminates I am told about 75% of the germs in the air.
All infant supplies are supplied by the parent, therefore the price does not change for this age group.
One of the specialties I offer for infants is a tracking chart, upon request only.
Have a 1 yr old Cat (Moana).

I will protect your children