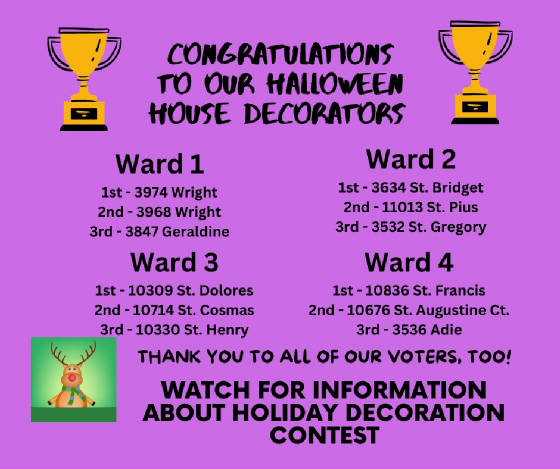 Tracking is the same as last years Christmas Contest below.
Sample Form for Judges below:
Christmas Light Contestants in PDF form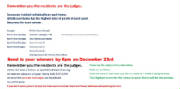 St. Ann Holiday Decorating Contest - How it Works:
Residents can submit their addresses (send to mnolen@stannmo.org) to get their homes on the list for voting.
We will share the list online.
Residents will judge the homes and submit them to the same email address or drop them off at the St. Ann Police Department and we will tally the results.
THREE HOMES (1st, 2nd, and 3rd places) from each of the four St. Ann Wards will receive a prize and recognition for their hard work.
Register your address by Dec. 1 to have your house included in the voting.
A list of addresses will be posted on social media on Dec. 6.
Judging will begin on Dec. 10 and will end on Dec. 30.
You may submit your votes by Dec. 31, 2021, either electronically by sending an email to mnolen@stannmo.org) or mailing them to the St. Ann Police Department at 10405 St. Charles Rock Road, attention Mary Kay Nolen or you can drop off your votes at the station.
Winners will be announced on or about Jan. 3, 2022.
I wanted to share this information with you, to assist you in finding information on what you or maybe your kid could do beyond school to achieve a NICE PAYING job.
As I understand it, an apprentice will start at a good wage, right out of high school.
When you graduate you graduate with 40-45 College Credit Hours, and apparently, they have a program to help you complete your degree if you choose to go that route. Great benefits and in this particular union, they do a variety of work... HERE is where there is a lot of job growth currently as the Baby Boomers are aging out and it is getting more difficult to find people in these fields.
Lack of laborers affects us all...
Have you tried to get something fixed and were told it would take 2 weeks to get someone to you.
This is why - the industry needs more workers.
Think about it, if you are in need.
These jobs once trained pay extremely well!

LABORERS INTERNATIONAL UNION OF NORTH AMERICA
35 OPPORTUNITY ROAD
HIGH HILL, MO. 63350
636-585-1500
apprentice@laborers-highhill.org
WWW.LABORERS-HIGHHILL.ORG

LABORER' INTERNATIONAL UNION OF NORTH AMERICA
ST ANN PUBLIC RECORDS REQUEST FORM
Zoo Member, NRA, KCU, St Ann Alderman in 6th Term - Unopposed last 6 runs, USAV, AAU V, Operation Graduation, Pride & Promise, SAPA, SABA, Ran as a Candidate for St Louis County Council 2x -got 41% of vote. RLAC & Ritenour Parent Advocacy Committees.
Resume on Linkedin - Click Here
Paid for by Amy Poelker.
Paid for by Citizens for Amy Poelker, Treasurer Christopher Poelker.