Little St Ann History that I learned as an Alderman over the last 12 years.
From City Notes, City Admin/Employees/Residents

In March of 2010, Carrie Hamm and Mayor Aversa and a friend, now deceased, came to me and asked me to run for Alderman in the City of St Ann.

I said Me. Why me?

Well as it turned out my friend wanted to run but feared some past misbehaviors would be brought out in the race and wanted me to take his place.
My opponent would be the appointed alderman. Really didn't know her.

They explained that I would have to run as a write in because the sign ups had already passed. And that because of this my name would have to be spelled correctly or the vote would not count. I had 3 weeks to get my campaign done, the vote April 6th, 2010.

I told them I would think about it and talk to my husband.
During our conversation my husband pointed out that I really couldn't do any worse than those who had been in office for years - like my opponent - after all.

1.They lost what was once the Largest Mall in the Country! Northwest Plaza.

2. They closed the swimming pool down never to be reopened again.

3. They terminated the Easter Egg Hunt, right before Easter I might add.

4. They terminated the Fishing Derby and let the Pond get in terrible condition, so bad indeed it had to be CLOSED to Fishing.

5. They terminated the Day Camp for kids in the summer.

6. They CANCELLED, St Ann Days and its Parade.

7. They BANKRUPTED THE CITY, putting it $500,000.00 in the RED and the New Mayor at the time had to borrow A MILLION DOLLARS JUST TO PAY THE BILLS AND EMPLOYEES.

8. They LAID OFF EMPLOYEES due to their poor management of the City funds and when they did, they offered them what is known today as the GOLDEN GOOSE EGG RETIREMENT PLAN - thus the bankruptcy putting us taxpayers in a spot to fix their mess!

9. Their extreme loss of Revenues made them desperate to get money from anywhere to finance the City - so in 2006 they came to the voters for a UTILITY TAX! This is why our utilities are taxed.

10. Our Parks fell into disrepair as they had lost their most valuable revenue source which built the Parks system. Northwest Plaza alone brought in $4,000,000.00 just in the Parks Tax. Still have to wonder just where all the money from the Capital and Economic taxes went as...

11. Our City Streets fell into disrepair and many of the 231 streets, had not seen repair since the 70's. What was this money used on??? Especially on the North side where the Alderman thought they would make a land deal after the Cypress Corridor Study suddenly NO maintenance occurred on the North side of St Ann. The residents felt they were being ignored and in turn ...

12. Our Housing fell into disrepair!!! As the Code Department became inconsistent on how they were enforcing City Code.

13. All of the City Department Staff were cut so steep, that all felt and feel still today overworked.

14. Our Police Department felt the stress as well and programs like DARE and SRO's for our kids were CUT!! Leaving our kids at risk in today's world.

So, I decided to give it a try, why not? I couldn't do any worse than those who had lost Northwest Plaza and Bankrupted the City!

I did not Win this Election, however I did do very well with 141 votes for a write in candidate with 3 weeks to run. April 6, 2010 - General Municipal Election - St. Louis County Website (stlouiscountymo.gov)

So I decided to get more involved, go to city meetings and figure this stuff out. This gave me time to find someone to take over my Volleyball Club and learn more about what an Alderman does.

When I ran the following year 4/5/2011, I Won, 231 to 138. April 5, 2011 - General Municipal Election - St. Louis County Website (stlouiscountymo.gov)

And the Adventure to Repair the losses of the City Began.

See my Accomplishments Page on my personal Alderman Website at www.amypoelker.com where I have kept track of everything, I was involved in.

I also have an App, so I am easily accessible to the residents and anyone else.

I wanted to make sure you understood the how's and why's I became an Alderman, as before that day I was asked - this job was not even a twinkling in my eye, and I think that is an important part of my story.

Someday ask me why the city records only date back to 2005.
ST ANN PUBLIC RECORDS REQUEST FORM
Zoo Member, NRA, KCU, St Ann Alderman in 6th Term - Unopposed last 6 runs, USAV, AAU V, Operation Graduation, Pride & Promise, SAPA, SABA, Ran as a Candidate for St Louis County Council 2x -got 41% of vote. RLAC & Ritenour Parent Advocacy Committees.
Resume on Linkedin - Click Here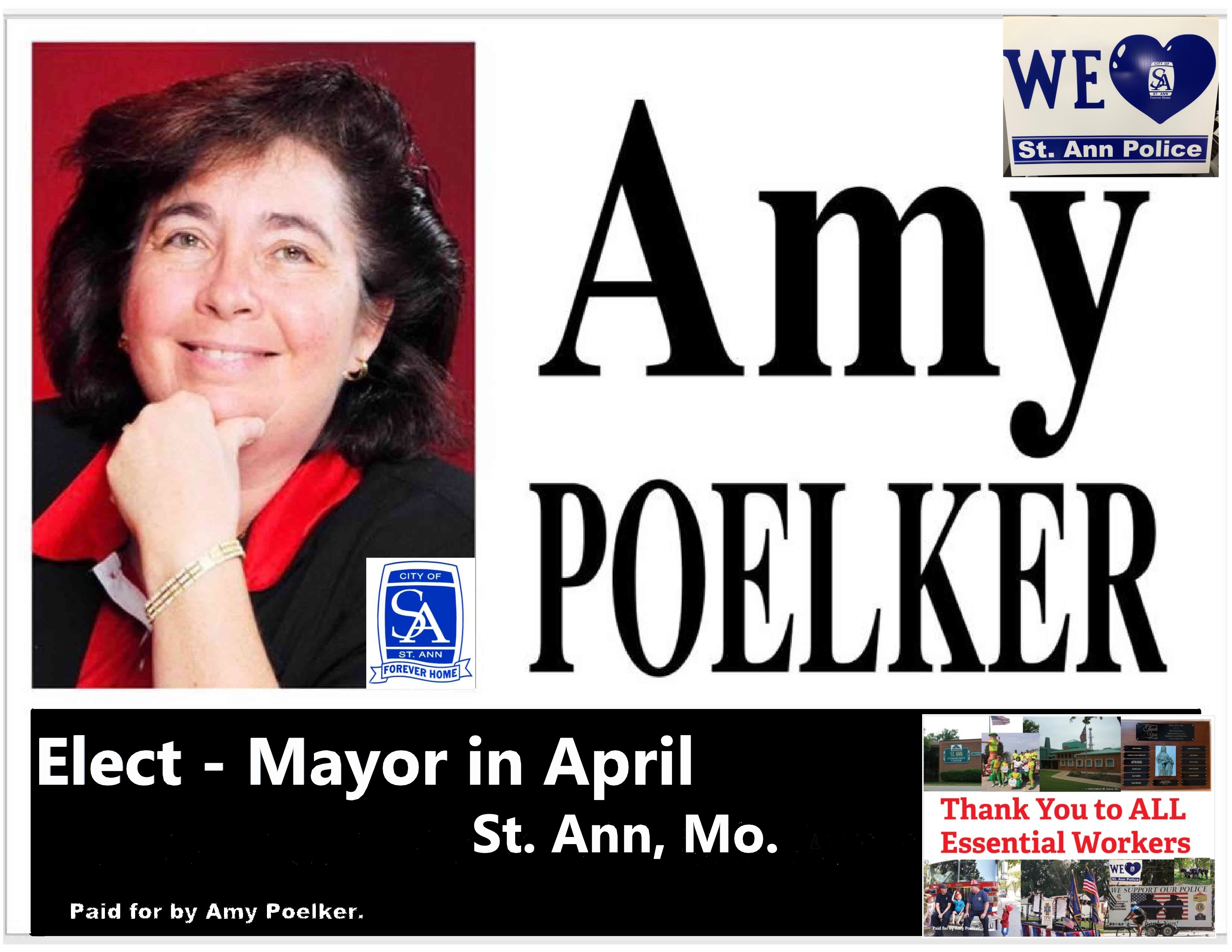 Paid for by Amy Poelker.
Paid for by Citizens for Amy Poelker, Treasurer Christopher Poelker.