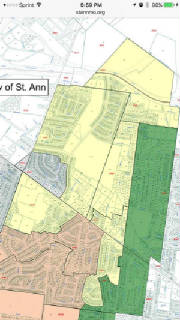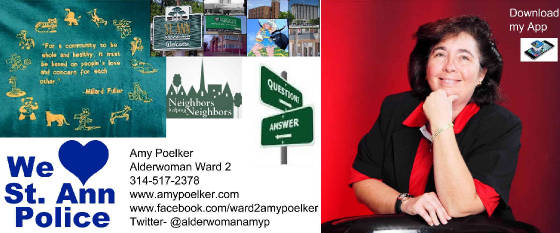 Municipal Links to their Website and Services
ST ANN PUBLIC RECORDS REQUEST FORM
The Constitution Center - Constitution Page
MESSAGE ME AT THIS LINK
m.me/ward2amypoelker
Zoo Member, NRA, KCU, St Ann Alderman in 6th Term - Unopposed last 5 runs, USAV, AAU V, Operation Graduation, Pride & Promise, SAPA, SABA, Ran as a Candidate for St Louis County Council-got 41% of vote. RLAC & Ritenour Parent Advocacy Committees.
My Votes will protect Residents, Businesses and Municipalities from Government Intrusion.
I will Work to continue to bring jobs and businesses to St. Ann.
I will listen to your views, opinions, frustrations and needs, and take on whatever is needed to protect the people and businesses as I have for the past 12 years.
As always I will be honest and forthcoming of the information I get, so you can be included in the decisions made, should you choose to voice your opinions.
I will continue to oversee the repair and reconstruction of our city streets to ensure your TDD tax dollars are spent appropriately.
As your Ward 2 representative for the last 12 years, I have kept and made good on the priorities above. In 2011 when I 1st got in; Northwest Plaza was a dead mall with no opportunities. Today unemployment in St Ann has been reduced from 9% to 3.2%. Housing values have increased from $63,000 to $150,000. The average household income has increased from $36,000 to $67,000.