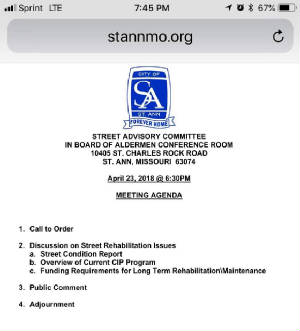 3/31/18
Street Committee Intro for Residents
Dear Residents,

Today my letters went out to our Street Committee Members.
These residents were put together to assist the Board of Alderman in making decisions on how we will fix and repair and replace our city streets. We meet for the 1st time on April 23rd.
We estimate the total cost to fix, repair and maintain our city streets, sidewalks and trees to be about 1.3 Million dollars a year. Repairs necessary for the next 15 YRs and maintenance after that.
They will be tasked with reviewing the City Budget, Staffing, Expenses, Services, etc. to represent you the citizens as a sub type committee of the Board of Alderman, so that we can get additional insight to your needs and preferences for fixing these streets. We have done this because 2 Street Props have failed over the last 8 years and basically the city only has $200,000.00/Yr currently to dedicate to street repairs.
I do take some blame for the 1st prop failing. It was a personal property tax and in my opinion at the time with the many foreclosures occurring 2008-2010 that this prop would not raise sufficient funds. So i was amongst those residents fighting against that prop in 2011.
What I would like from all of you is your opinion's, frustrations, idea's etc. that I can present to this committee on your behalf, so they understand where you want the direction of the Streets to go.
You may stay informed on the process on this page of my website attached here:
http://nocofoshojrvbc.tripod.com/amypoelker/id101.html

We have exhausted all but one Federal Grant and the one left will be applied for within the next 2 years.
We used Federal Grants to Renovate:
Industrial Drive - 2010
Ashby Rd Bridge - 2011
Breckenridge - 2012/13ish
Adie-2015
Ashby 2018
Old St Charles Rock Road - 2019
And the next and Last available Federal Grant to apply for is for
Wright Ave.
These were all typically Million Dollar streets which the Federal Grant pays for 80% of, leaving the city to pay it's 200,000.00.
Also with $150,000. unused in St Louis County's CBD Grant by homeowner's where we dedicated the money for the last 7 years, we have
redirected those dollars for the renovation of St Shawn, St Linus, St Matthias, St Leonard over the next 4 years. No worries the $150,000 is still available and if the monies get used up we can redirect back to homeowners yearly.

Here is the link on info from the Aug 2017 Prop that Failed http://nocofoshojrvbc.tripod.com/amypoelker/id94.html
Thx
Amy Poelker
Alderman Ward 2


In 2017 Budgeting the BOA, altered the departments of Code Enforcement, Parks and Streets.
We moved the Supervision of the Parks Dept. (Outside Maintenance People) under the Street Dept. this change allows use of additional labor as needed during non peak Park times Ex. 9 Trees were removed from the cities tree list since January as a result. And additional labor to assist with Street needs. Code Enforcement will be a separate dept with its own supervisor. One inspector will do Occupancy, One inspector will do code enforcement and the supervisor will manage and assist where needed with both.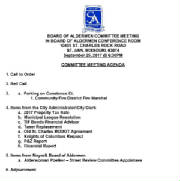 Payken TDD Presentation pgs 10-46
Missouri Senator and House of Representatives Emails click here
Drive like your kids live here...link
St Animal Pet Adoptions (St Animal Pet Adopciones)
Municipal Links to their Website and Services
General Administration Documents 2013 BT
ST ANN PUBLIC RECORDS REQUEST FORM
The Constitution Center - Constitution Page
Zoo Member, American Disabled Veterans, USO, WW1 Memorial Fund, NRA Life Member, MUNY, KCU, St Ann Alderman, MDA, USAV, AAU V, Operation Graduation, Pride & Promise Contributor, SAPA, SABA, Ran as a Candidate for St Louis County Council-got 41% of vote. RLAC & Ritenour Parent Advocacy Committee
Paid for by Amy Poelker to Elect Amy Poelker.