Dear Residents,
The Board of Aldermen have changed the procedure for posting the Monthly Agenda's on the City Website.
You will see everything the BOA see's in their monthly meeting packets.
If you have any questions or concerns you should contact your Alderman before the meetings and/or inbetween the Committee and Alderman Meetings which are held the last Monday of the Month for Committee (please be aware that these notes provide you with information we are discussing however not all of the items on the agenda's ever see the light of day on a vote, hearing your voices on this agenda is important to determine agenda outcome)
the alderman meeting is the 1st Monday of the Month unless that Monday is a Holiday. (these are the items we actually vote on).
If you sign up on the city website for reminders the reminders for the meetings with the agendas will be sent directly to your email
http://stannmo.org/list.aspx
otherwise -------
Below find instructions on how to find our Agenda's on the City Website.
City Main Page
http://stannmo.org/
click on Event Calendar
click on Board of Alderman Meeting link under the date on the right
that takes you to this page where you will find the Agenda PDF in the bottom right to click and download
http://stannmo.org/Calendar.aspx?EID=1019
2018 Jan, Feb, Mar Actuals Summary
Review 2008-2016 Revenues and Expenses to see flow of money.
GENERAL FUND OPERATING EXPENSES
GENERAL FUND EXPENSES BY DEPARTMENT
SPECIAL FUND EXPENSES DETAILED

Questions and Answers View on Prop S 2017 Please pay particular ATTENTION to the last Question and Answer where you have it in writing that the previous TDD will be eliminated as soon as it pays itself off at which time the sales tax will be reduced by .75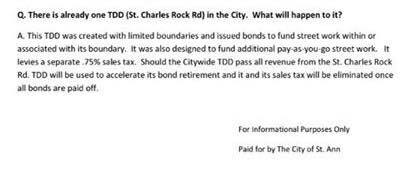 Municipal Links to their Website and Services
ST ANN PUBLIC RECORDS REQUEST FORM
The Constitution Center - Constitution Page
Zoo Member, NRA, KCU, St Ann Alderman in 5th Term - Unopposed last 4 runs, USAV, AAU V, Operation Graduation, Pride & Promise, SAPA, SABA, Ran as a Candidate for St Louis County Council-got 41% of vote. RLAC & Ritenour Parent Advocacy Committees.